WEIGHMENT PHOTO CAPTURING FACILITY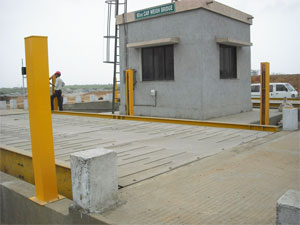 The Unattended weighbridge System is a stand alone system which allows 24 hours 7 days a week weighing operators without the need of operator.Due to the systems easy interface.it is totally operated by the truck driver.Moreover Eagle Solution custom design the system to suit the specific requirement of your operators.
System Automatically take Vehicle Image/Photo on Weighment Time,Capture Vehicle actual position on weighbridge and store image in HDD with full ticket.
Ideal For
Benefits
Features And The Process
Mining Industry
Steel Industry
Cement Industry etc.
Sugar Industry
Vehicle Position System
CCTV Camera & Photo Capturing
Barrier Security System
Checking same vehicle for both weighment
Verify loaded good on vehicle
Instruction announce with loud Speaker
Integrate with SAP,Oracle,ERP
RFID Integration
Barcode Integration
PLC Based Intelligent Terminal
Traffic Light indication
Photo Sensor based system
No requirement of Weighbridge operator
At the token counter, the Driver is provided a radio card with all the particulars electronically entered in to it
Once the Driver positions the vehicle on the platform, Driver is guided by an announcement to place the Radio card on the Contact less radio card reader installed at the gross weighbridge When the weighbridge stabilizes, an announcement is made for the driver to press a button
When the switch is pressed, weight is recorded and the Driver is advised to leave the platform.
Appropriate announcements are made by the System to guide the Driver at various Stages, including the announcement of weight both at Gross and Tare.
Traffic Lights, on both the sides of the platform, are used along with the announcement to regulate the farmer vehicle movement.
The same radio card is used by the Driver at the tare weighbridge as at gross.
The radio card issued to the driver is exchanged for the final printout at the time of 2nd weighment or at the gate when the vehicle is leaving the factory premises. As soon as The printout is issued; this card is ready for reuse.