COMPRESSION TYPE LOAD CELL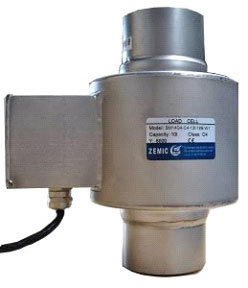 Protection
:

Environmental seals,stainless steel shielded cable,surge protection,heavy-duty coatings and rugged construction help protect Eagle Weighbridges from adverse weather conditions and operating environments.
Load Cell Certification :

Ball and Cup Load cells surpass Its Competitors in Terms Of Resistance against Side Forces. It Is a Fact That the Major Reason behind Load cell Manufacturing Is the Horizontal Side Forces Created by the Vehicles during Brakes and Sudden Start-Ups. That Is why, Scales with Column Type Load cells require Construction Absorbing Side Forces. However, Such Construction As Rocker Supports, Tensions Rods, Buffers, Etc Need Maintenance And Have An Adverse Impact on Weighing Accuracy.
applications, the double ended shear beam offers a number of advantages over other designs. Units like the one shown opposite have built-in jacking bolts which can be used to support the weighing structure during installation thus allowing the live load cells to be fitted just prior to commissioning, avoiding damage. The load cell is designed to rock on its mounting base to accommodate misalignment in mounting surfaces whilst still being retained. The mounting arrangement also permits limited movement to allow for thermal expansion and contraction as well as lift off protection.
Double-Ended Sher Beam Type Cup & Ball Type concept in load cell design provides the following advantages over the conventional compression type load cells.
Greater adverse load capability.
Lower sensitivity to adverse loads.
Lower height.
Lower creep and faster return to zero after load removal.
Higher tolerance and environmental protection.
Better sealing and environmental protection.
Freedom from barometric effect.
Greater flexibility of application.
The above advantages make the double-ended shear beam load cells superior over the conventional compression load cells and are more popular now a days in developed countries for various fields applications. A brief explanation on the above advantages is given below and the literature provided speaks in detail about the design concept, performance and applications of double-ended shear beam load cells.