DRUM FILLING MACHINE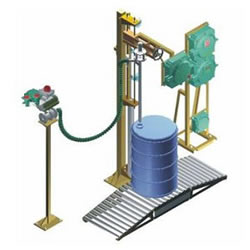 Features  :
Latest Micro Controller based design
Rugged construction
ADI Artech (USA) Make Heavy Duty Load cell for rough handling
Stainless Steel Valve with Teflon coating
Coarse and fine feed for better accuracy
Auto calibration (thru Key Pad)
High internal count greater than 2,00,000 counts
Data retention in memory even power failure Gross/Net filling.
Top Rollers and side roller conveyor for easy handling of drums
In-Mouth filling & hence no spillage
Local control panel for easy Operation.
Specification :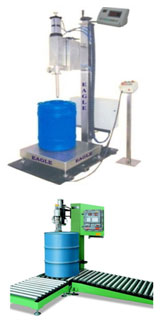 Fill Accuracy : Better than + / - 0.1% FSR
Display : 0.5 mm height (7 segments LED)
Load Sensor : Strain Gauge Based Load sensor
Fill Mode : Auto/Manual
No. of Fillings : 1 fillings per minute (Depends on the flow available)
Fill Valve : SS with Teflon Lining
Operating Temp : 5-50 degree C
Operating Pressure : 6-8 bar
Power Supply : 230v Ac, 50 Hz +/- 10%
Platform Size (mm) : As per Customer Requirement.
Application  :
Edible Oils, Lubricants, Paints, Chemicals & Other Liquids
Options :
Printer interface, Computer interface, Remote Display, Higher Capacity, Flame Proof
| | |
| --- | --- |
| Capacity | Resolution |
| 100 Kg | 20 gm |
| 200 Kg | 50 gm |
| 300 Kg | 50 gm |
| 500 Kg | 100 gm |