TABLE TOP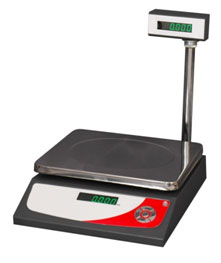 MODEL : BE-20 CLASSIC
Features  :
High Precision Load Cell
Large LED Display
Front and Rear (Pole) Display (Table Top only)
Selectable Auto off Function
Selectable Auto Zero Tracking
Full Capacity Tare Function
Auto Calibration Facility With Standard Weigh
Specifications :
Capacity Range : 1 Kg to 30 Kg
The Ultimate Performance & Price Package.
Molded MS Body with MS Bottom.
All M.S. Parts with Standard Power Coated.
SS Platter with 250 X 300 mm size.
Standard Display – Front, Rear or Pole.
High Bright RED Led Display (0.56" – 0.75").
Dual / Tripple accuracy is also available.
Piece counting, Check weighing & Liter Facility.
Backup of 40 hrs supported with a rechargeable battery.
Auto off Function for battery backup.
Weather & water proof tactile key pad.
Over load protection.
Auto Zero Tracking.
Smart Calibration (thru key pad).
Support for thermal and dot matrix printers. (Optional Facility)
Operating Temperature: 0° to 50° C.
Power Supply: 230 V AC ±10%, 50 Hz.
SILVER LINE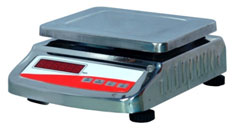 Features  :
High Precision Load Cell
Large LED Display
Front and Rear
Selectable Auto Zero Tracking
Full Capacity Tare Function
Specifications :
Standard Capacities : 1 kg / 2 kg / 3 kg / 5 kg / 10 kg
Accuracy : 100 mg / 200 mg / 500 mg
Platter Size : 175 X 225 mm SS
Power Supply : Main / Battery
Number of Keys : 4 keys
Battery Charger : yes
Battery : yes
Outer Body : Stainless Steel Body
Message Languages : Numeric
Display : 6 Digit (fornt & Back Display only)
Power : Mains/Battery (6V/4Ah)